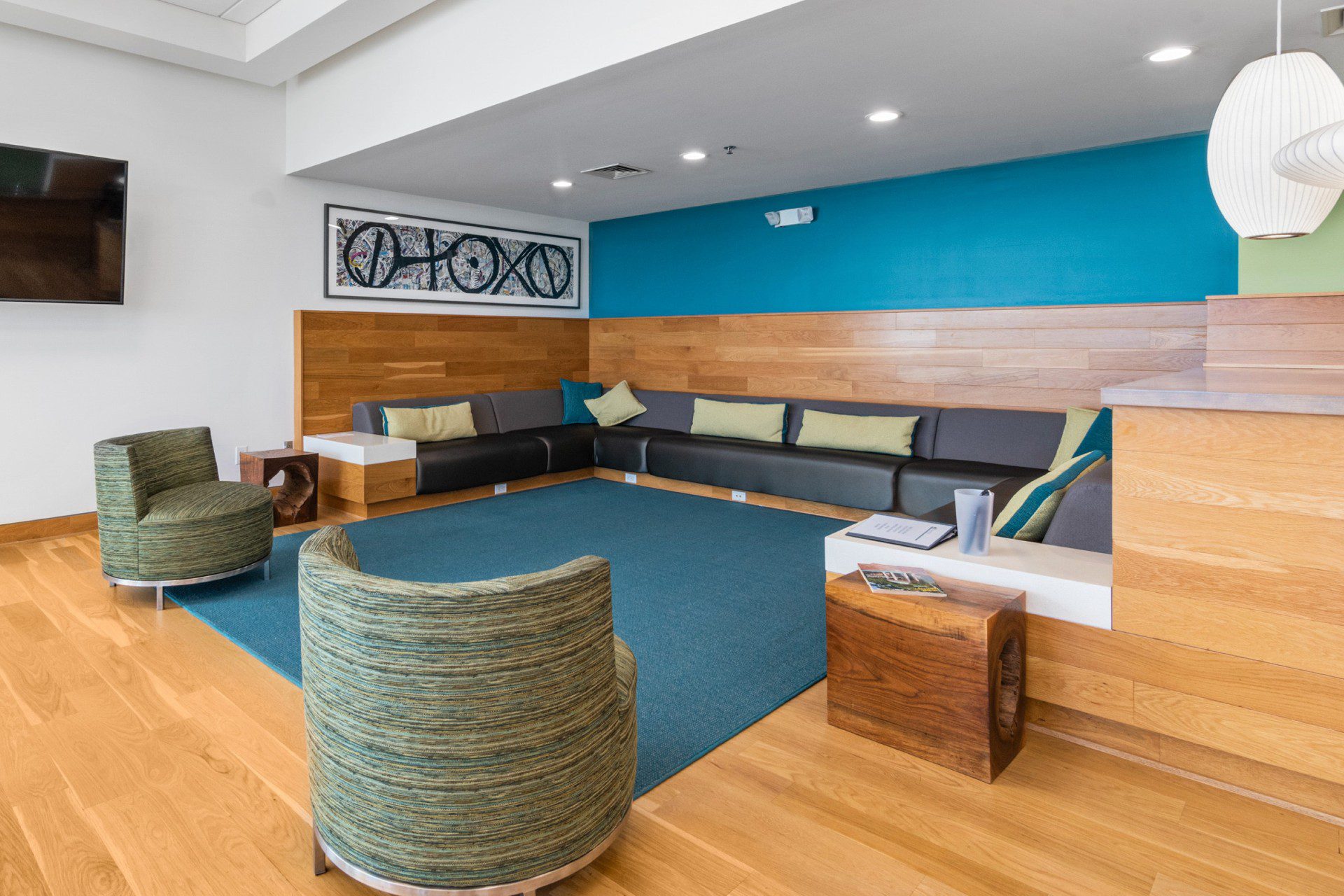 Your waiting room is the place where you make a first impression on your customers. There's nothing worse than walking into a dirty, unkempt, and unwelcoming waiting area. For whatever reason people find themselves in such a room, it should feel like a safe space for what's next. Waiting rooms are an opportunity to make your clients feel well cared for and valued.
Are you looking to create a more pleasant waiting room experience for your customers this fall? Instead of going full-blown pumpkin patch, create a cozy, simple environment with these tips:
1. Change up outdated seasonal elements.
The season has turned, so replace the summer magazines with fall ones. Take down the beach artwork and hang up some fall-themed artwork instead. Keep decorations cool and classy by opting for smaller, muted-colored elements instead of large, colorful pieces. Swap out your summer throw pillows and rug for a fall-feeling oasis.
It should go without saying that you need to keep your waiting room clean. But customers will like seeing that your business goes the extra mile to update the space along with the seasons.
2. Add some light fall scents.
An inviting space should engage all your customers' senses, so don't neglect the sense of smell. From fallen leaves to cloves and cinnamon, the aromas of fall are a delight, so consider adding these scents to your waiting room.
That said, be sure to select ones that account for people with sensitivities to strong fragrances. You want your waiting room to be pleasant and inviting, not headache-triggering. Lightly spray the room each morning before customers arrive or place reed diffusers around the room with a popular fall scent.
3. Create a kids corner.
Get creative with your kids' corner in the fall. Have fall-themed activities to keep children busy in a designated area. Ditch the vacation-themed coloring books and replace them with pumpkins and farm animal pages. Opt for washable markers to ensure your young visitors' artistic efforts don't become permanent features of the space.
Create a specific project kids can do and display the results in the kids' corner when they're complete. You might, for example, ask children to write what they're thankful for on a leaf-shaped cutout. Or connect the activity to your business: print coloring pages with a pumpkin dressed as a lawyer or a scarecrow holding a stethoscope. Remember to have a staff member tidy the corner up throughout the day to keep things neat.
4. Consider warmer lighting.
Say you manage a doctor's or dentist's office. Sure, people are there for medical care, but your waiting room shouldn't make them feel like they're already on the exam table. Bright white fluorescent lighting might be the default in most business settings, but it's hardly your only option.
To warm up your waiting area, consider lighting alternatives that would make your visitors feel more welcome. Try yellow lights, Edison light bulbs, or lamp lighting around the room. A golden glow equals a perfect fall day.
5. Offer seasonal treats and refreshments.
Fall is harvest time, so treat your customers to the bounty of the season by offering seasonal refreshments. This can be as simple as setting out a basket of fresh fruit, such as apples or pears. If you're feeling more ambitious, provide individually wrapped pastries made with recently harvested fruits. Fall-themed granola or trail mix is an easy on-the-go snack.
Once the weather starts cooling down, offer beverage options besides water and coffee. Hot tea, apple cider, or cocoa will warmly welcome your customers and make your space smell delicious.
6. Bring in plants.
For an instant homey feeling, add a few low-maintenance plants to your waiting area. Use fall-colored pots to bring warmth to the area. No window? No worries. Plants like pothos and philodendrons will thrive in little to no sunlight in the autumn weather. Not only do they make your waiting room more inviting, but these plants provide additional oxygen in your space.
Not into having to water plants but open to fresh flowers? Grocery stores usually have beautiful fall bouquets filled with red and orange hues that scream fall. Pick up a bouquet once a week to add to the coffee table, adding instant life and a focal point to the room.
7. Establish a clear and friendly check-in process.
Cozy doesn't just mean a snuggly blanket. To feel comfortable, visitors must feel welcome. By greeting clients with a smiling face, you're already creating a welcoming check-in process.
While they're checking in, mention the autumnal treats they can help themselves to. If they have children in tow, point out the fall-themed activities in your kids corner. In case your front desk staff gets busy, clear signage can instruct arriving clients on the check-in process so they don't stand around awkwardly.
By creating a cozier environment, you will usher in a positive customer service experience for your clients. Through thoughtful snacks, lighting, and scents, you'll show that you pay close attention to detail. This will resonate with your clients and convince them they've come to the right place for their service. First impressions matter, and you'll be off to a great start by following these tips.
Featured Image Credit: Curtis Adams; Pexels.com. Thank you!