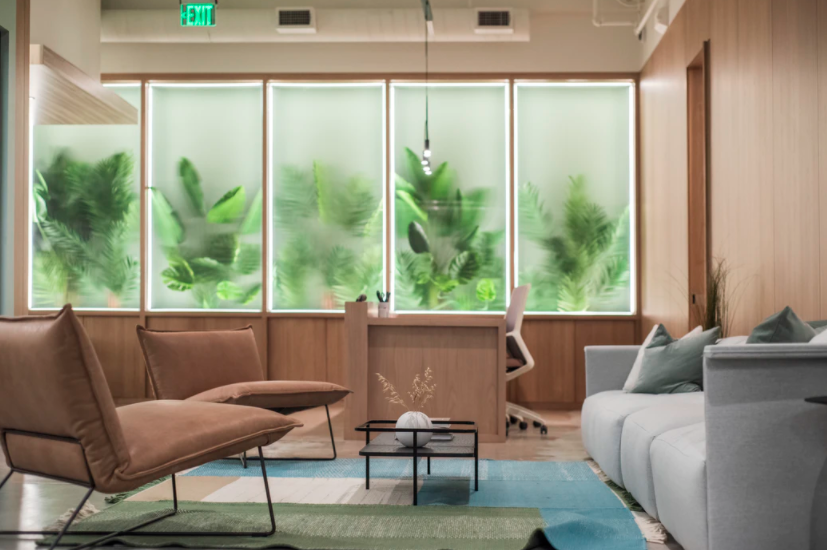 Think about your most recent experience in a waiting room. What — if anything — did you enjoy about the atmosphere? What bothered you? Now think about the customers that come to your business waiting room. What are they thinking as they wait for their appointments?
Time spent in the waiting room is inevitable for appointment-based businesses. While you can do your best to cut down on wait times, you should still provide the best waiting experience possible. You can improve your own lobby by offering these valued amenities to your guests:
Free Wi-Fi
Even during a short wait before an appointment, your customers want to stay connected. Whether they use it to scroll through social media, play a mobile game, or finish up some work emails, your clients will be grateful for the Wi-Fi connection you provide.
When offering Wi-Fi to your customers, keep cybersecurity in mind. You're better off extending a private connection that requires guests to sign in before use rather than a public server. A private connection is more secure than the public alternative, reducing the risk for any users. You can set this up via a customer portal where only regular customers can connect. 
If you want to go the extra mile, include a workspace in your waiting room. This will be especially appreciated if your customer base largely consists of business professionals who could use the area to get some work down while waiting for their name to be called. Besides, everyone will be thankful for a place to charge their device while they wait. 
Space for Children
Many a parent will enter your business with a child in tow. Whether the appointment is for the child or the parent simply can't leave them home alone, having a special place for children will keep them entertained as they wait. 
For children at a dentist or doctor's office, a play area will help them relax and feel less anxious before their appointment. Parents will likewise be less stressed when their children are entertained and can get their wiggles out rather than struggle with boredom and confinement.
Keeping play areas clean is a top priority, especially while COVID-19 remains a concern. Opt for toys and games that can easily be cleaned, such as blocks and toy cars. Avoid anything that might be a choking hazard or could easily get lost. 
Comfortable Seating
Even a short wait will feel like an eternity when you're stuck in an uncomfortable chair. The most basic aspect of your waiting room is the seating arrangement, so it makes sense that comfortable chairs should be a high priority.
The type of seating you have available will also impact the attractiveness of your waiting room. A couch will be comfortable, but it will probably only appeal to family members who want to sit together. Strangers will feel more inclined to keep some distance between themselves in individual chairs, especially during the ongoing pandemic. A variety of seating options will cater to every guest.
A massage chair may also be a welcome addition to your waiting room. Not only will it make wait times more bearable, some customers might even wish for a more extended wait so they can enjoy the massage for just a little longer!
Check-In Kiosks
The more efficient you can make your appointment process, the better. Online appointment software will help speed things along before the actual appointment. Once customers arrive, you can cut wait times with self check-in kiosks in the waiting room.
For busy appointment-based businesses especially, self check-in prevents lines from forming and helps customers get checked in faster. Once customers check themselves in, the front desk is alerted, and appointments can be set in motion. This operations system also makes it easier to work around late arrivals by enabling staff to adjust the queue to keep things moving fluidly. 
Refreshments
It's hard to turn down a free cookie or bottle of water when the wait for an appointment makes you realize how empty your stomach is. Refreshments are welcomed by customers of all ages. They help hit the spot when being hungry or thirsty could otherwise make customers irritable before an appointment.
Many appointment-based businesses provide coffee to their customers. Think carefully before making this decision for your business. While a cup of coffee certainly helps a lot of folks in the morning, extra caffeine can work up already anxious customers. Considering your customers' particular needs will help you decide whether caffeinated beverages are actually the best choice for your waiting room or not. 
Reading Material
A staple of waiting rooms for years is an array of magazines sitting on a coffee table in the center of the lobby. And for good reason — a 10-minute wait provides the perfect amount of time to catch up on celebrity gossip or digest an opinion piece. A range of magazines on different topics will appeal to the variety of customers you get every day. If you choose to continue the magazine tradition, make sure the issues you provide are up-to-date and in good condition.
A shelf of books is another way to provide reading material. Books of different genres and sizes can be just as entertaining, and they never become outdated. If a customer gets sucked into a particular novel, let them borrow it. Your bookshelf can turn into a small lending library that will encourage customers to book a return appointment.
Reading material can replace a wall-mounted TV or be a separate option for waiting guests. The problem with a TV is that the channel may be tuned to something customers aren't interested in — or may even object to. Plus, reading is a much more fruitful and relaxing activity to participate in.
Adding some of these amenities to your waiting room will keep customers happy even if their appointment needs to be pushed back. Between keeping public areas tidy and providing these comforts and conveniences, you'll be sure to have a winning waiting room.