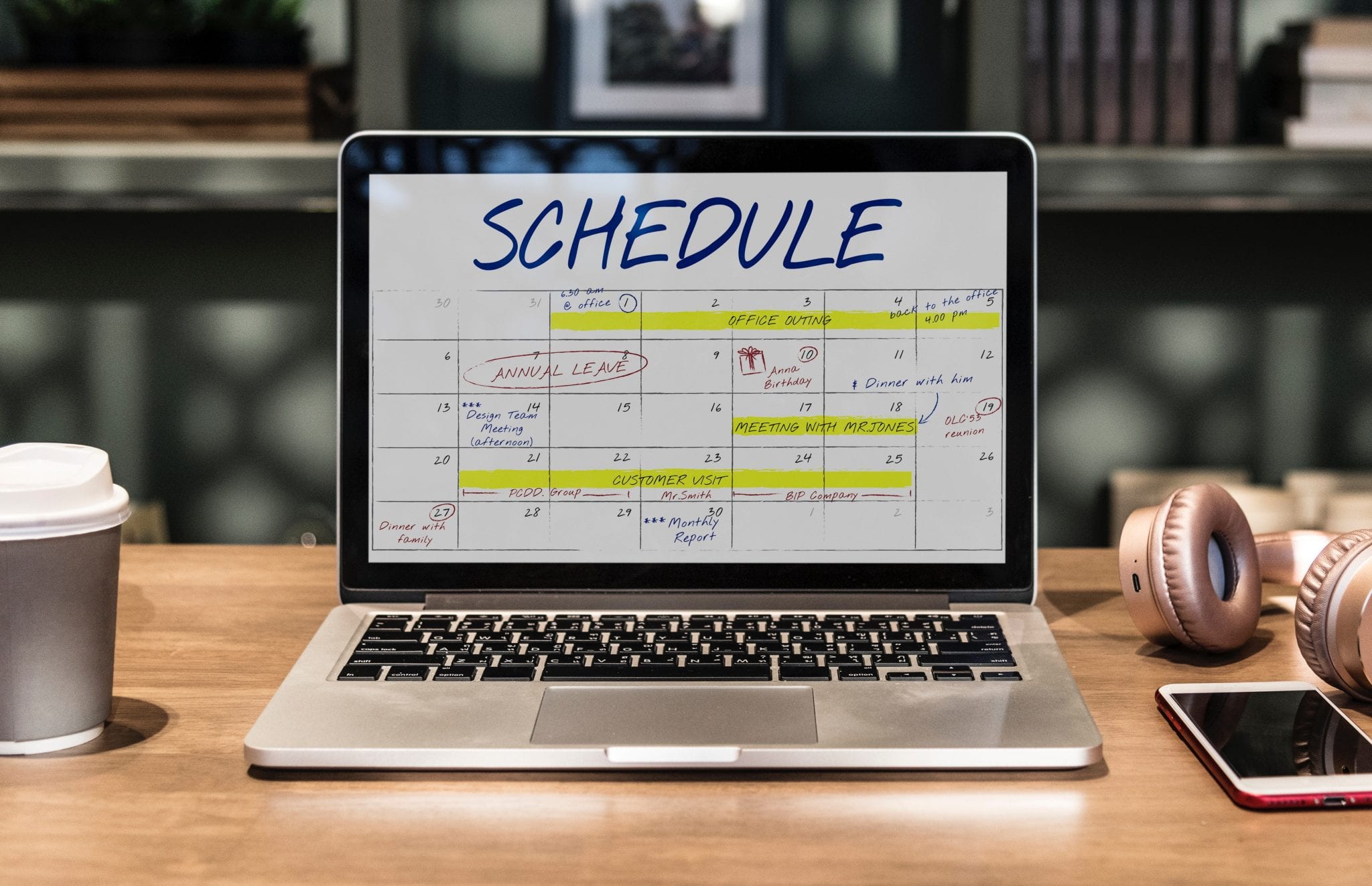 If you want to be more organized and productive than you absolutely need to be — use a calendar. But let's be honest here. Calendars, while essential and useful — aren't exactly the most fun. You just add an event to your calendar and that's it.
How about some calendar planning tools?
Fortunately, you can use these 15 calendar planning tools to not only get organized and boost your productivity, but to also make you fall in love with your calendar.
Let's say you just made some high-profiles connections at a recent networking event. You want to follow-up with these individuals so you send them an email or text asking when they're available to meet. Next thing you know you've exchanged several messages without finding an ideal time to meet-up.
Calendar eliminates those time-and-consuming back-and-forth emails for you.
A simple share.
Simply share your Google, Outlook, or iCloud calendar with others via an email or embedded link. After viewing your availability, they'll pick a date and time that works for them. Once they've selected a meeting time the event is added to everyone's calendar.
Machine learning.
Because this scheduling app uses machine learning it can also make smart suggestion on where, when, and what how your meetings can take place. In other words, this handy tool automates the scheduling process for you.
Most of us use several different tools throughout the day. As a result we spend a lot of time switching between applications. Even worse, we may make some innocent mistakes when planning our our calendars — like forgetting you agreed to meet with a colleague for lunch when you already committed to a meeting with a client.
Plan resolves this problem by syncing tools like your email, calendar, Salesforce, Zendesk, JIRA, and Github. Now you have a real-time dashboard to see who and when are handling specific tasks. This ultimately ensures that you and those in your life will never drop the ball on any task, meeting, or project again.
This is a robust and popular iOS app that provides a clear presentation of you events in either a daily, weekly, or monthly view. But that's just the beginning. With Fantastical 2 you can set geofence or time reminders, time to leave notifications, and view the availability of your coworkers. If you need to add an event you can use natural language to do so with ease.
Today Widget
There's also the handy "Today Widget" that allows you to easily view and manage your schedule on your desktop without having to open the app, your email, or any other tool that displays your schedule.
Fantastical 2 supports iCloud, Google, Microsoft Exchange, Yahoo, and any other CalDAV account.
This free online calendar comes with a daily, weekly, or monthly planner. You can also also add notes and create tasks and reminders. If you want to achieve goals you can record your days to see when you're most productive and when you get distracted.
Assign and discuss tasks.
If working with others you can assign and discuss tasks so that there is no miscommunication when working on a project.
DayViewer is also working on an appointment booking system so that clients can book time with you without exchanging emails, texts, or phone calls.
Informant 5 is a powerful multipurpose calendar, tasks, and notes tool. You can create color-coded calendars and use emoticons in your calendar view. The popular 30 day view with "mini text," uses Travel Assist to manage time zones, travel ETAs, and suggest locations when you create events.
Using natural language.
Additionally, Informat 5 lets you organize tasks into projects, create checklists, task modes like Simple, GTD, or Franklin Covey, and import reminders. You can even turn emails into tasks and use natural language to create tasks.
While there is a free version, you may want to opt for one of the subscription models to unlock the features you'll really need.
Teamweek is a free online calendar planner that's perfect for project managers, event planners, HR managers, and anyone who is working with a team. That's because it's a straightforward online calendar that lets you set deadlines, see who's working on what in real time, check availability, and add notes.
You can also use Teamweek for scheduling appointments or meeting with clients by simply sharing a view only version of your calendar.
You can take this tool with you.
Besides the desktop version, you can take the tool with you on the go by either downloading the app on the App Store or Google Play.
If you want to get your life more organized than give Wunderlist a spin. It's a collaborative tool that makes coordinating with colleagues, family, and friends a cinch — since you just share todos, lists, and tasks with them.
Sharing and reminding.
You can also add reminders and set due dates for these items. If you do you and your collaborators will receive email, push, and in-app notifications.
Wunderlist also lets you track, complete, and share your goals with just the click of one-button. You can also assign tasks, add comments, and group related tasks in accessible calendar.
Available on most sites.
Wunderlist is available for Android, iOS, and Windows Phone, as well as OS X and Windows; and Google Chrome.
RescueTime is a time management app that you can use to make sure that your days are as productive as possible. That's because the app records how and where you spend your time.
Analyzes time spent on activities.
By analyzing the time you spend on emails, your favorite websites, or with meetings you have an accurate picture of what you days look like. You can then make the appropriate changes.
Alarm.
For example, if you're spending 2 hours per day on emails, you can set a goal to spend less than an hour daily on emails. The app will then send you an alarm if you're spend more than an hour going through emails. It will also block distracting distractions websites so that you can stay focused.
Once you know how you spend your days and improve your productivity, you can create a calendar that encourage you to be more productive and efficient.
9. ZenDay
This award-winning time management app, which is available on Google Play and the App Store, takes a timeline-style approach to managing your schedule. This is accomplished by a fluid 3D timeline where you can view all of your upcoming reminders, deadlines, tasks, and events in your calendar that are based on priority.
Syncs well.
ZenDay allows you to quickly add events, meeting, or reminders directly in the app or just allow it to sync with your existing calendar. You can then set deadlines and start dates.
One of the more unique features is the debrief mode which allows you to view how well you've kept up with your schedule in the previous weeks.
If you use Google Calendar and have an Android device then you can use this tool to plan your schedule and maintain to-do lists, as well view them in different formats across all your devices. So instead of bouncing between several applications you can view all of your events, appointments, and tasks from this app. Because it syncs with Google Calendar and Google information is shared automatically.
Voice will send to different sites.
For example, if you just made a doctor's appointment, you speak into your phone or desktop and add the event in the Day by Day Organizer. The app will then add your doctor's appointment to your Google Calendar.
One of the coolest features, however, is that if you don't check-off a task it will automatically be moved to the following day.
This nifty app can be used as a calendar, timetable or daily planner, daily task reminder, time manager, routine schedule organizer, or productivity management tool.
Custom notification and tags.
You can then create custom notifications, such as by sound, popup, or vibration. You can also generate custom tags to easily identify activities and color-code your calendar so you can quickly glance at day, week, or month.
You can even create routines and schedules for others, like your family or employees, so that they can also stay organized and productive.
Want to keep your life organized? There may be no better tool to accomplish this then Any.do. It's an intuitive and straightforward planner where you keep all of your tasks, todos, lists, and reminder in one location.
Award winning app.
The calendar feature lets you manage and view your day, week, or month. And, this award-winning app also comes with the Any.do assistant that will handle all of your recurring tasks for your.
Any.do works seamlessly with Google Calendar, iCal, and Exchange Calendar. It also syns quickly across Android, iOS, web, and desktop. It even works with Alexa so that you can verbally add reminders or events or hear what you have planned for a specific day. It's also been seen as a top calendar app as well.
Are you looking for a tool to help you break a bad habit or build some positive ones? If so, then HabitBull is just what you nee.
HabitBull is a smart tracker available for both iOS and Android based on Jerry Seinfeld's "don't break the chain" productivity hack. This allows you to mark off the successful days that you completed a goal, such doing 20 push-up or reading for 15-minutes a day.
Give yourself a star with goals completed.
Each habit comes with its own calendar. And there's also reminders and graphs to help you stay on-track.
Additionally, there are discussion forums so that you can connect with other trackers and motivational quotes to help keep you focused and inspired.
Basecamp is one of the most popular project management tools on the market. And for good reason. The app's dashboard display your team's discussions, to-do lists, and events in one convenient location. This way everyone can stay on the same page throughout the course of a project.
View and track progress.
With Basecamp you can also view and track your team's progress without nagging them for status updates. This way you know exactly what everyone is working-on today, tomorrow, and next so that you can plan accordingly.
You can also embed images into messages, comment directly on lists and tasks, attach code samples, and forward emails into Basecamp. Again, this keeps everyone in the loop, while also freeing up your calendar from sending these messages individually or switching between multiple communication tools.
Canva is an amazing tool that allows you to design anything. This includes logos, cards, brochures, newsletters, and infographics. You can also use Canva to create your own personalized calendar or personal daily, weekly, or monthly planner.
Lets you start from scratch.
Instead of using a generic template Canva lets you start from scratch. This means you can use whatever images, fonts, background, and colors you like. You can further customize your pages by breaking your days into hourly blocks or making sure that there's plenty of space to jot down todos, lists, and notes.
After you've created your own calendar or planner you can share it as a PDF file, via email, or on social channels like Facebook or Twitter.