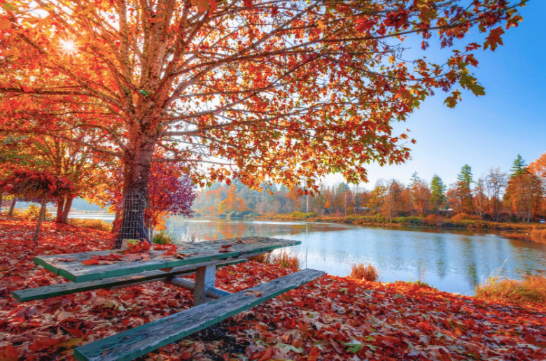 Fall is the best season of the year. The kids go back to school, and the weather cools down to a bearable level. But as workers break out their sweaters and jackets, they may need a boost before winter.
Team-building activities can provide this energy for your company. They're a way for employees to renew their motivation and tighten the bonds of teamwork. After a summer of vacations, they glue everyone back together.
With that said, seasonal team-building events are key. Solely doing evergreen activities won't provide the same spark. These activities are especially suited to the fall:
1. Take a camping trip.
Fall is one of the best times to go camping. You don't have to worry about sweating so much or freezing to death. Plus, the mosquitos are gone, so the bug spray won't be flowing heavily. 
If you take your team camping this fall, assess everyone's comfort level. Some people may be thrilled, but others may be apprehensive. 
The good news is, camping doesn't have to be hardcore. Cabins may be a better move than tents. The more experienced campers can always rough it on their own time.
To round out your trip, choose at least one of these outdoor activities:
Hiking

Fishing

Bonfires

Singing

S'mores 
Nothing helps people unwind like getting outdoors. And there's no better time than fall to do it.
2. Visit a corn maze.
Another delightful outdoor fall experience is a corn maze. This classic activity provides some healthy competition in a low-pressure setting. 
Employees can do their best to get out of the maze in the fastest time. For maximum team-building value, try it in teams. Assigning roles like "scout" and "navigator" reminds participants everyone has a part to play. 
While you're there, why not have a picnic? Bring along food and drinks to unwind after everyone exits the maze. 
3. Go apple picking.
Get your baskets ready for this team-building activity. Heading to an apple orchard is yet another way to enjoy the spoils of fall. 
At an apple orchard, you can collect bushels of fruit. But there are a variety of other things you can do as well. You can shop for different products, take a hayride, and get some cider. 
This experience makes for great family fun. Encourage everyone on the team to bring their kids and spouses along for the fun. 
4. Carve some pumpkins.
Now that it's pumpkin season, help your team get their creative juices flowing by carving up these squash. Head to a pumpkin patch, and grab a big pumpkin for each person.
For a competitive aspect, announce a caving contest. After an hour or two, get everyone together to vote on their favorites. 
Afterward, these pumpkins can make great decorations for the office. Put them beside your front door, or in a conference space where everyone can admire each others' work. 
5. Head to an Oktoberfest celebration.
Oktoberfest occurs from late September to early October. Chances are good that there's a celebration happening in your area. Why not take the whole team out for some hearty food and beer? 
 If you can't find a celebration near you, you can always throw one yourself. Cook up some German favorites together, or host a cooking competition. Make it a potluck for sake of variety.
Make your Oktoberfest celebration a party by playing trivia games related to the occasion. Does anyone know when the first Oktoberfest was celebrated?
6. Rake leaves for your community.
Looking for a way to have fun while helping others at the same time? Sign up to rake leaves for local businesses or elderly community members. Doing so unites your team around a common cause while giving them some exercise.
Maybe someone in your group knows someone who needs help with the leaves. If not, you can partner with an organization oriented toward community service. Senior citizens, people with disabilities, and nonprofits could certainly use the help. 
Nothing feels better than making a difference for others. Ring in the season by doing it together.
7. Do a Halloween escape room.
Your team is full of smart cookies. Put your puzzling skills to the test by heading to an escape room. Find a Halloween-themed one to fit with the season.
Be sure to book a time around Halloween before things fill up. Work through the clues together without scaring yourselves into a tizzy. Do it in record time, and your team will earn a spot in the escape room's record books.
8. Go to a Haunted House.
As another suspenseful activity, you can go to a haunted house this season. Even the calmest of your colleagues will have trouble holding it together. See who's the most scared, and make memories you can laugh about for years to come. 
Don't let the season go by without a bit of team building. It doesn't take a lot of planning to enjoy each other's company. And whatever your team's preferences, fall has something fun for everyone.