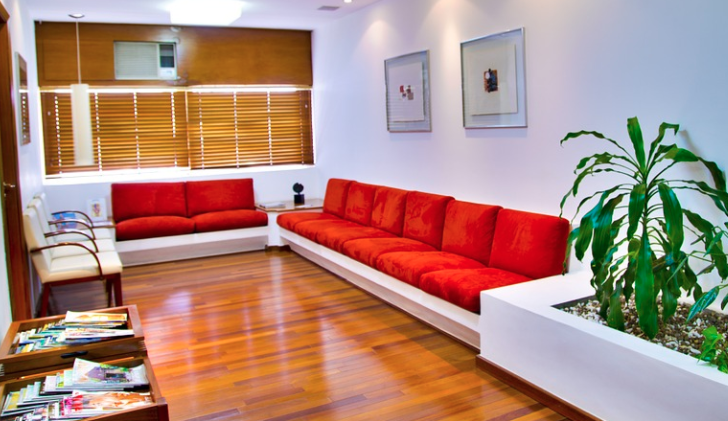 No one enjoys waiting. But the reality is, everyone has to wait from time to time. Even if an individual made an appointment and arrived on time, they'll probably end up spending a few minutes in the waiting room filling out paperwork or waiting to be seen. This can be frustrating and might even cause anxiety.
While integrating some type of appointment software to reduce their wait times and streamline productivity is important, it shouldn't be your only priority. Making the waiting room as comfortable as possible is a great way to make customers and clients feel at ease. In this article, we share what appointment-based businesses can provide to improve their waiting rooms and the customer experience:
1. Clean Waiting Room
Now more than ever, people want to feel safe while out in public. This is especially true when patients visit a healthcare or service provider. If your waiting room looks dirty, it's going to deter patients and customers. On the other hand, if the waiting room is clean, people will probably feel less anxious. Make sure you're regularly cleaning your waiting room throughout the day.
You should also have cleaning products and PPE in place like hand sanitizer, masks, and gloves. Due to COVID-19, masks are mandated in many localities. It's a good idea to have them available for patients or customers in case they forget.
Your waiting room shouldn't be the only area you keep spic and span. Make sure your entire office is clean and sanitized, from the interior offices to the bathrooms. If you own a salon, encourage stylists to keep their areas tidy and free of excess tools and equipment. Do you run an oil-change service center? Keeping the garage bays organized will make a good impression on guests.
2. Entertainment While Waiting
While people don't go to doctor's offices or service businesses to watch movies or play games, having entertainment options available can improve their experience. With that said, you don't want to go overboard or over budget. You also want to make sure the entertainment is calming and not distracting. A few options include:
Soft music/nature sounds
TV turned to an arts and craft channel
Magazines and self-help books
3. Comfortable Furniture
Have you ever visited an office, only to spend what seemed like an hour sitting in a hard, plastic chair? After being uncomfortable for so long, you probably weren't in a good mood for your appointment.
Comfortable seating can significantly improve the waiting experience. That doesn't mean you need to spend a great deal of money on your seating, but keep patients and guests in mind. After all, some people might suffer from back pain or another condition that could be made worse with uncomfortable seating. Look for furnishings with soft but supportive cushions and fabrics that are easy to keep clean.
4. Personal Amenities
Waiting room amenities are a great way to improve the patient or customer experience. Think about it. When you go to a hotel, the first thing you probably look for are amenities like access to a gym, fancy shampoo and lotion, a fluffy robe, etc. While you wouldn't be miserable without these things, they definitely add a nice touch.
Consider bringing personal amenities to your waiting room like snacks, coffee or tea, hand lotion, wrapped candy, etc. Many appointment-based businesses also provide small items like pens or sticky notes with their logo for customers to take home.
5. Wi-Fi
The Royal College of Emergency Medicine categorized Wi-Fi in hospitals and waiting rooms as a "developmental" standard. And while Wi-Fi in waiting rooms might not be mandatory, it's something you should consider adding if you haven't already.
If you decide to offer patients or customers Wi-Fi, opt for a public network (for security reasons) as opposed to giving people access to what your office uses. Display the Wi-Fi name and password somewhere they can be easily seen by guests, like by the sign-in sheet at the front desk.
Having access to the internet ensures visitors are able to go about their day as normal, even while waiting for an appointment. They can email their colleagues, work on cloud-based documents, scroll social media, and text with family or friends.
6. Food and Water
You might be hesitant to offer refreshments in the waiting room. And while there's always the possibility something will spill, providing food and water can be helpful. This is especially true for healthcare provider waiting rooms, where patients may have to spend hours in the office between procedures or tests.
Keep in mind, we're not suggesting you cater food every day. Instead, you could have a coffee station, a vending machine with snacks, or a refrigerator filled with water.
7. Real-Time Mobile Alerts
There are plenty of ways you can enhance the waiting room experience. But maybe one of the best ways is to integrate more technology.
For instance, you could have a digital board in the waiting room that shows the order of when people will be seen. This way, if there are four people in the waiting room, each person can clearly see their position without having to ask the receptionist.
Another option is to use real-time mobile alerts that tell patients when they'll be seen. This is similar to the digital board, but it'll be automatically sent to the patient's phone. Some online appointment software offers this feature, so you don't have to do it manually. This also allows people to wait outside or in their cars.
Providing excellent care should be the No. 1 priority for appointment-based businesses and service providers. That said, they should also consider the patient or customer experience. After all, if a patient or client doesn't feel comfortable, they might not return for their next appointment. The tips above can help improve the waiting room experience so guests feel cared for and welcomed, no matter what kind of business they visit.