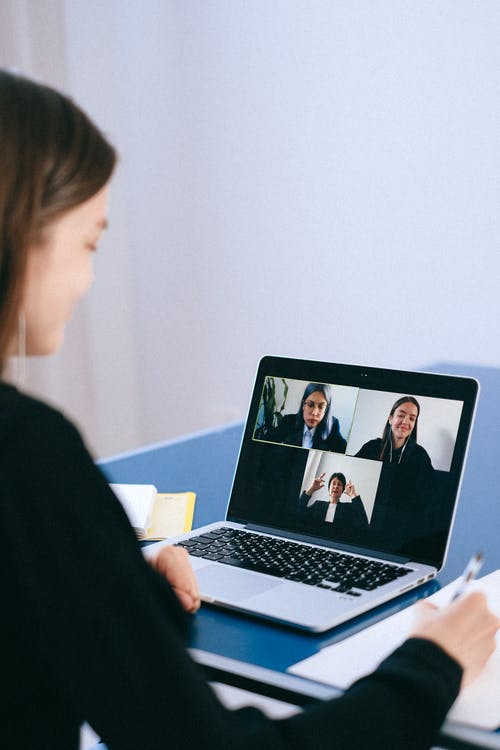 It happens to the best of us. It's 10:20 a.m., and you realize you forgot that the morning video meeting started at 10. After scrambling onto the call and making a quick apology, you struggle to catch up with the rest of the team. 
Luckily, there are several tools and strategies to prevent these videoconferencing snafus. The tips below will help you knock every video meeting out of the park. 
Schedule Some Breathing Room 
Whether you're the meeting planner or just an attendee, plan for video meetings to take longer than they are scheduled for. Block out an additional 10 minutes on either side of the allotted time to give yourself some leeway. That way, if a call runs long, you're less likely to be late to the next one. If the meeting runs short, you'll have extra time to take a break, grab some water, or answer emails.
Adding at least a 10-minute buffer around meetings also helps to ensure that you have time to wrap things up before your next commitment. If you need to follow up individually with a member of the team after the group meeting ends, you'll have time to do so without throwing off the whole day's schedule. 
Use the Right Meeting Software
Enlist technology to keep you on time and in the know. While some people prefer written calendars, digital calendars excel in making sure that nothing slips through the cracks. The straightforward design and layout of these tools make them incredibly user-friendly. And you'll be hard-pressed to find a paper planner that can send you pop-up notifications of your upcoming commitments! 
When you use scheduling software, you can set it to give you a 10-minute reminder before any scheduled video meeting. This way, you have enough time to get set up, settle in, and resolve any technological problems that may arise. In today's Zoom world, bad Wi-Fi is no longer a valid excuse for missing a meeting. 
Some scheduling software, like Calendar, allows you to sync calendars from Google and Outlook together. You can combine important personal, work, and family schedules into one main calendar. This way, you never accidentally set up a phone call with a customer at the same time as a team meeting — or your daughter's soccer game. Nothing gets overlooked when everything is synced together. 
Business scheduling apps also ensure that the calendar event has the link to the call, the meeting agenda, and everything else you need for the video meeting. There's no more last-minute searching through old emails looking for the link. 
Be Prepared For Every Meeting
Being punctual is only one factor in excelling in online meetings. Being on point and making strong contributions are critical as well. 
Before any meeting, jot down at least two thoughts, ideas, or suggestions and two questions. These notes can focus on the nitty-gritty specific or be more big-picture. Your questions and comments don't have to be ground-breaking; they just have to be relevant and helpful. When someone asks you, "Well, what do you think?" you'll be ready. 
If the meeting centers on an ongoing project or issue, take a few minutes before the meeting to review relevant files and notes on the subject. You'll re-familiarize yourself with the matters at hand and ensure you don't get lost or caught off guard in the meeting. This is especially helpful if this is the first meeting about a project in weeks. 
If you are leading the meeting, be sure to have an agenda to follow and provide it to attendees beforehand. Attach it to your calendar invite along with the videoconferencing link so everyone will have it at the ready. 
While it is important to be flexible and allow other discussion topics to come up naturally, sticking to an agenda keeps the team on task. You also show yourself to be a capable leader who values your co-workers' time. 
Create a Professional Setup
The last key element to making an impact in your company's digital meetings is the space around you. 
When working from home, have a designated work space or desk that you intentionally leave clear of anything but the essentials: laptop, relevant documents, etc. This will help prevent clutter from distracting other attendees from you and your ideas. Be sure that the space behind you is neat and clean as well. 
If video meetings are commonplace in your work, consider upgrading your microphone and using high-quality headphones. If your connection is poor, increasing the internet speed or changing to a different provider is worthwhile. While small improvements, these updates will ensure that everyone can clearly and easily understand you. 
When it comes to time management and personal performance, video meetings can pose challenges. But with the right tools, strategies, and setup, you can ensure that you are a valuable part of any online meeting.