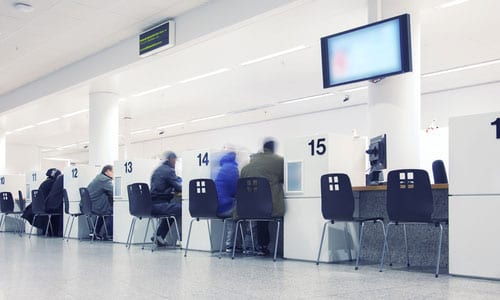 Even as states and businesses open up once more, COVID-19 remains a major concern. To prevent another wave from decimating your company or driving customers away, you need to implement some basic safety precautions.
Maintaining social distancing guidelines not only ensures the success of an appointment during these uncertain times, but it also helps customers feel more comfortable booking a slot with your business. 
You need paying customers to stay afloat, after all. Use this guide as a way to continue operations safely.
Keep Guidelines Posted
After so many months of the pandemic, you'd think that everyone would already know the drill. No matter how many times we've heard the guidelines, however, it never hurts to have a reminder. 
For your business, it's better to be safe than sorry. Posting coronavirus safety guidelines at your business serves two purposes: It offers needed safety information and indicates to employees and customers that the practices will be enforced.
When businesses make safety expectations clear at the entrance, customers have no excuse not to follow them. Post this information prominently, and maintaining social distancing becomes that much easier. 
Require Face Coverings
The CDC considers face masks a vital tool in the fight against the coronavirus. What's more, people who wear masks or face coverings are much more likely to follow social distancing guidelines than those who don't. Mandated masks help prevent the spread of COVID-19 and remind everyone — pandemic fatigue notwithstanding — that precautions are still in place.
You will undoubtedly have customers who oppose a mask rule. Train your employees on the proper responses to prevent confrontations from escalating. Provide disposable masks at the door for customers who show up without a face covering, so they won't have an excuse for not wearing one.
Rethink Your Waiting Room
Appointment-based businesses have designated spaces to accommodate walk-ins and allow customers to wait for their scheduled appointments. They strive to make these areas comfortable and welcoming to make the wait as painless as possible. 
With social distancing measures in place, you'll have to mix things up a bit. Start with your seating arrangements. Keep chairs six feet apart, per CDC recommendations; if seating is conjoined, you'll need to tape off every other seat.
For the time being, you should also reconsider some of the amenities you offer in your waiting room. Magazines and coffee bars can be passing points for illness, so consider substituting a TV and individually packaged refreshments.
Space Out Appointments
It's better to space out fewer customer appointments over the course of day than not to have any customers at all. Forgoing some business for improved safety is a sacrifice you'll have to make to continue to endure during COVID-19. 
With fewer appointments bunched together, you won't have to worry about a crowd forming. That's important because your socially distanced waiting area won't be able to accommodate as many customers as it used to. When you keep everyone six feet apart, there's less room to fill before safety precautions go out the window.
Even with spaced-out bookings, though, you should be able to keep yourself plenty busy. When customers feel safe and comfortable at your business, they won't hesitate to book repeat appointments or recommend you to their safety-conscious friends.
Order Some Plexiglass
Plexiglass barriers are one of the most common solutions you'll see businesses implementing during the pandemic. These barriers act as cough and sneeze guards, protecting employees and customers from accidentally infecting each other through airborne droplets.
Often used to separate cubicles or retail counters, plexiglass has seen a huge spike in usage over the last few months. Hair salons, for example, can use plexiglass sheets to separate customers seated next to each other at stylist stations. While customers still have to be masked up with their stylist, this added safety precaution can reduce virus spread in a droplet-heavy environment.
Apply Social Distancing Stickers
Floor stickers are another frequently seen adjustment that businesses are making. Each sticker is placed six feet apart to show customers where they should stand when waiting in lines. Stickers are inexpensive and easy to remove once COVID-19 has finally been laid to rest.
When dealing with customers who have appointments, you'll need to check them all in as they arrive. Arrival times often overlap, especially when you also accept walk-ins. Having these stickers in place will help customers keep their distance in line to protect each other.
Ease Your No-Show Policy
Companies that rely on appointment bookings often have a no-show or late policy that customers must adhere to. This prevents customers who reserve appointment slots from disappearing, which wastes company time and prevents other customers from taking that slot. 
This makes perfect sense in normal times, but during COVID-19, a layer of lenience might be called for. If a customer has any indication that they might be sick, encourage them to stay home without no-show consequences. Offer to reschedule appointments with no charge even if your policy states otherwise.
Sick customers will appreciate your flexibility and reward you with their business when they're well again. Healthy customers will appreciate your commitment to helping them stay that way by keeping sufferers out of your waiting room.
Automate as Much as Possible
The less touching involved in an appointment, the better. You can reduce physical interaction by automating as much as possible. Processes that normally would be done by hand can be eliminated to reduce virus spread through contact and help maintain social distancing.
One of the best examples is payment methods. Allowing customers to pay online takes away the need to pay in person at your business. Card and cash transactions can spread germs just like any other contact, even if all other social distancing measures are in place. 
While everyone's health and safety is of extreme importance, your business is important, too. Social distancing offers the best of both worlds. By taking these steps, you will help keep your customers safe and your business running.