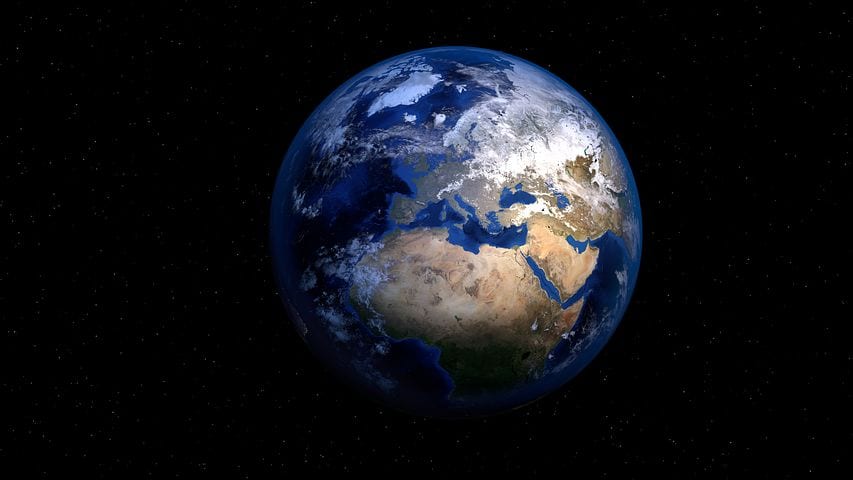 Is it ambitious to want to save the world? Sure. But, as Eddie Vedder sings on one of my all-time favorite Pearl Jam tunes, "Sometimes."
Seek my part, devote myself

My small self

Like a book amongst the many on a shelf
Whatever you truly care about, spending any amount of time championing it can make the world a better place — even if it's just in your small pocket of the world. After all, if we all made a little effort, we could have the power to impact our little third rock from the Sun positively.
Of course, time restraints are always holding us back from making a difference. But, thanks to your trusted calendar, that's no longer an excuse. In fact, thanks to the calendar, we can all participate in saving the world in our own unique ways.
1. Put Your Oxygen Mask on First
"In the event of a sudden drop in pressure, an oxygen mask will drop from above. Secure your own mask first before assisting others."
If you've ever flown, then you're familiar with that announcement. But, why? It's straightforward.
If you don't put your oxygen mask on first, then how can you assist those who can not? After all, the lack of oxygen will cause you to pass out. As such, this will leave others in a precarious situation.
The same is true in your daily life. If you don't carve out time to attend to your own health and wellbeing, then you aren't in the best spot to make a positive impact. For example, if you're too burned out from work, then you aren't going to have the energy to help struggling employees or volunteer in the community.
What's the best way to help yourself first? By adding self-care to your calendar.
Self-care, as explained  in a previous Calendar article, "is when you regularly engage in activities and practices that make you feel calm and re-energized."
"Some might consider this being on the selfish side," adds Deanna. "But, self-care is a proven way to reduce stress. It's also key in maintaining our own mental, emotional, and even physical health." Because of this, self-care is "vital in protecting and enhancing our short- and long-term health and wellbeing."
While you may think that you don't have the time for self-care, you can use your calendar to make this possible by:
Following a routine that at least "encourages a consistent sleep-wake cycle, meal schedule, and workflow. If possible, try to base these around your circadian rhythms," Deanna states.
"Regularly scheduling 2-3 nutrient-rich meals per day." To make this easier, schedule deliveries from companies like Misfits Market or SnackNation.
Blocking out periods of time for physical activity and setting reminders to stand up and stretch.
Setting office hours so that you can actually unplug and detach from work. You should also share your calendar with others so that they know when you're available and when you're not.
Scheduling social activities.
Reducing screen. Instead of being glued to your phone, replace that with other activities like walking or reading a book.
Penciling in alone-time so that you can reflect and engage in self-talk.
Leave blank spaces in your calendar so that you can spend that time however you please.
2. Cultivate Gratitude
Looking for an uncomplicated activity that can lower stress, improve sleep, and strengthen your relationship ships. Look no further than practicing gratitude. In particular, try the GIFT Technique, as suggested by Anna Hennings, MA, a mental performance coach in sport psychology:
Growth: personal growth, such as learning a new skill
Inspiration: whatever has inspired you
Friends/family: those who are supportive and enrich your life
Tranquility: those small and meaningful moments, like sipping on your morning tea
Surprise: acknowledging unexpected surprises
Keep that acronym when identifying what you're grateful for. After that, jot these items down in your journal during your morning or evening routine.
In addition to writing in a gratitude journal, actually show others how much you appreciate them. Examples include greeting your employees when they come into work or sending handwritten "thank you" cards. Other recommendations would be to publicly acknowledge others, offering thoughtful gifts/rewards, and being respectful of their time.
3. Volunteer Your Time
"When you volunteer your time, you are helping others in need while also spending your time in an excellent way," note the folks over at Wheels For Wishes. "Not only are you making others happy, but you will also feel great about yourself." However, since there are so many organizations where you could volunteer, where can you start?
Thankfully, the Wheels For Wishes put together the following list to help you get on your way:
Walk dogs at an animal shelter
Adopt or foster a pet
Volunteer at a wildlife rehabilitation
Give blood
Serve food at a soup kitchen
Organize a fundraising event
Volunteer at a children's summer camp
Donate your hair
Adopt a highway and keep it clean
Pick up trash in your neighborhood
Spend time at a nursing home
Organize a food or coat drive
Tutor or mentor
Run errands for the elderly
Knit hats for those going through chemotherapy
Go through your calendar to check your availability. For example, since my calendar is wide open next weekend, and the weather is supposed to be pleasant, I'm going to collect the trash along the side of my road. By adding this to my calendar, I'm committing to it and not letting anything else take its place.
4. Offer Your Services
What skills or knowledge do you possess? Put them to good use by offering them up for free.
For instance, if you're a doctor, you could spend your downtime at a free clinic. Are you a lawyer or accountant? Offer free advice at community or senior centers when needed, like right before tax season. Do you know how to code? Build or update the website for a nonprofit.
5. Make a Donation
Don't have the availability to volunteer or offer your services? No problem. You can still give back to others through donations. For instance, you could go through your kitchen and donate perishable food items. Go through your closet and donate blankets, coats, or hats you no longer wear.
But, what's there's more! Animal shelters could use old towels, cleaning supplies, or unopened pet food and treats. Nurseries could take baby blankets off your hands, while daycares might be interested in books or art supplies.
You could also donate your vehicle. And, you can never go wrong with a cash donation.
6. Commit to a Regular Contribution
Is there a cause that you're passionate about? Then why not become a regular contributor? It's pretty setting-and-forgetting your contributions. For instance, you could make an automated monthly donation to NPR or The Adventure Project — just put a reminder in your calendar so that you keep your bank account in good order.
$10 a month may not be much to you. But, it can truly make all the difference in the world for those in need.
7. Be Informed
What are you passionate about? Whatever it is, learn as much about the topic as possible during your downtime.
Let's say that this is climate change. You should keep informed via sources like Nature Climate Change; the "Ask NASA" website, CleanTechnica. You could also listen to podcasts, watch TED Talks, or attend online events.
The more you know, the more you can educate others or find ways to make a difference.
8. Get Involved Politically
No matter your political affiliation, always go out and vote both locally and naturally. I would search for election dates in your neck of the woods so that you can mark your calendar to prevent forgetting. Remember, there are way more elections out there than the Presidential Election that takes place every four years.
But, there's more you can do besides casting your ballot. You could volunteer for a campaign, like phone banking, knocking on doors, or registering new voters. And, keep politicians accountable by contacting them or attending town hall events.
9. Use Your Voice
Do you disagree with how a brand treats its employees? Send them an email voicing your concerns. Is a company polluting the environment or abusing animals? Let others know through social media and in-person conversations.
You might think that this is time-consuming. These are all actions you could take when batching tasks like cleaning out your inbox or updating your social channels.
10. Conduct an Energy Audit
An energy audit is pretty self-explanatory. It's when you go through your home or workplace to find out where it's losing energy so that you can correct this problem. While there are professionals who can do this, you can schedule to do this on your own by:
Finding and sealing air leaks coming through doors, windows, or gaps along the baseboard.
Checking insulation levels in the ceiling and walls.
Annually inspecting heating and cooling equipment.
Estimating the energy use of your appliances.
Switching to more energy-efficient appliances.
Replacing your old bulbs with compact fluorescent lamps (CFLs) or light-emitting diodes (LEDs).
11. Create Reminders to Power Down
"All things plugged in will bleed some energy," writes Vanessa Vadim for Treehugger. "Called 'standby' electricity loss because it's so often associated with electronics in standby or idle mode, it's also known as 'phantom' or 'vampire" electricity.'"
But, what if you turn off all of your appliances. Doesn't matter. They're still drawing power.
"The Natural Resources Defense Council says the cost of plugged-in but not used devices is about $165 per household or $19 billion across the U.S.," adds Vadim. "That amounts to about 44 million tons of carbon dioxide, or 4.6% of the country's total residential electricity generation, points out The New York Times."
One way to resolve this would be powering down and unplugging the electronics you use at work before leaving. If you usually "clock-out" by 5 p.m., then spend the last 30-minutes organizing your workspace and flipping off your power strip. And, you can do the same thing before bed in your home.
Suppose you know that you won't be home or in the office for an extended period, add a calendar reminder. For instance, if you're leaving at 9 a.m., then receive a reminder 15-minutes before so that you can turn off the lights and unplug unnecessary appliances.
12. Set the Ideal Temperature
Thermostat wars are fairly commonplace at both home and the workplace. However, constantly fiddling with the temperature doesn't just cause rifts between family members and colleagues. It can also impact everything from your sleep to productivity. And, it's also detrimental to the environment.
The answer? Install an automatic thermostat and set it at the right temperature at the right time. For example, the Helsinki University of Technology's Laboratory for Heating, Ventilating, and Air Conditioning state that the ideal temperature for the "typical" office is around 71.6 F. The U.S. Occupational Safety and Health Administration (OSHA), however, recommends keeping the thermostat between 68 and 76 F.
Regardless of your exact preference, keep the workplace comfortable so that you aren't shivering or sweating. At the end of the day, though, crank down the heat or turn up the air so that you aren't wasting energy when no one is around.
Better yet? Invest in a smart thermostat. It will learn your patterns and adjust accordingly. You can also sync these devices with your calendar. For instance, you can connect your Google Calendar with Google Home/Nest to control the temperature of your residence or workplace from anywhere.
Moreover, Project Drawdown anticipates that "smart thermostats could grow from 3 percent to 58-63 percent of households with Internet access by 2050." If so, this means "1,453-1,589 million homes would have them," and it could avoid 7.0-7.4 gigatons of carbon dioxide emissions.
13. Reduce Unnecessary Mail
41 pounds. That's how much junk mail the average American receives each year. In order to produce that much requires the cutting down of between 80 and 100 million trees annually!
Besides the environmental impact, junk mail is annoying and sometimes time-consuming if you happen to the type of person who reads every correspondence they receive. To stop this, you can:
Opt-out of credit card and insurance offers via OptOutPrescreen.com.
To stop receiving unwanted direct mail, register on the National Do Not Mail List.
Opt-out of catalogs and magazine subscriptions by contacting Catalog Choice, CoxTarget, or Publishers Clearing House (800.645.9242 or [email protected]) and Readers Digest (800.310.6261).
Directly ask for your name to be removed from the mailing lists of companies or nonprofits.
Download the PaperKarma app. Just snap a pic of the piece of mail, select the name or address you want removed, and press unsubscribe. Easy peasy.
And, even though it's not junk mail, make sure that you go paperless. As opposed to receiving monthly statements and mailing payments, you can do all of this online.
14. Prepare Your Meals
"Today, an estimated one-third of all the food produced in the world goes to waste," notes the World Wildlife Fund. "That's equal to about 1.3 billion tons of fruits, vegetables, meat, dairy, seafood, and grains that either never leave the farm, get lost or spoiled during distribution, or are thrown away in hotels, grocery stores, restaurants, schools, or home kitchens." That's "enough calories to feed every undernourished person on the planet."
"But wasted food isn't just a social or humanitarian concern—it's an environmental one," adds the WWF. "When we waste food, we also waste all the energy and water it takes to grow, harvest, transport, and package it. And if food goes to the landfill and rots, it produces methane—a greenhouse gas even more potent than carbon dioxide."
It's actually estimated that roughly "11% of all the greenhouse gas emissions that come from the food system could be reduced if we stop wasting food. In the US alone, the production of lost or wasted food generates the equivalent of 37 million cars' worth of greenhouse gas emissions."
To prevent food waste, plan your meal ahead. For example, you could spend Sundaymorning coming up with a menu for the week. When you go to the store, this ensures that you'll only buy what you need. And, then you can actually prepare your meals.
I've gotten into the habit of this. And, I'm a fan. It's a type of batching where I don't have to do much cooking throughout the week. Even though I enjoy cooking, this saves me time, money and even has reduced the packing waste.
As for leftovers? I either freeze them or get creative. For instance, if I'm on day three of veggie chili, I make chili quesadillas out of them to have something different. The rest is in my freezer, ready to be thawed on one of those cold and dreary days we tend to have in the Northeast during the winter.
Bonus points if you make a weekly trip to a local farmer's market. If that's not an option, most markets are seasonal around me, look into produce subscription boxes like Misfits Market, Imperfect Foods, Farm Fresh to You, Farmbox Direct, and Farm to People.
15. Regularly Eat Together as a Family (or Team)
Growing up, my family ate together—6 o'clock sharp. No exceptions. As we got older, this became less frequent. But, we still had Sunday dinner.
As a kid, this might have been frustrating. Why would I want to sit down to eat when I could be playing outside or hanging out with my friends. Little did I know, eating together as a family was key in keeping us connected.
It turns out that throughout the years, research backs this assertion up.
While it doesn't have to be dinner, having meals together is beneficial as it:
Teaches children better eating habits. In fact, teens ate more fruits and veggies, and less fast food and sugary beverages, if they ate with their family.
It can prevent psychosocial issues. These include eating disorders, substance abuse, and depression.
Curtails weight problems later in life. Even just gathering once or twice a week can help protect children from weight problems as adults.
Improves children's self-esteem. During meals, children can talk about themselves, which in turn, makes them feel more self-confident.
Bolsters communication skills. Between socialization and conversations, children can become better communicators.
It helps kids bounce back from cyberbullying. With more guidance from their parents, kids experience setbacks from cyberbullying like anxiety.
It can be used to supplement family therapy. If a family is seeing a therapist, meals provide an opportunity to share the lessons learned.
Before it gets filled up, schedule regular mealtimes with your family in your calendar. It's a surefire way to avoid conflicts. Plus, it makes planning easier since you can build your schedule around family time.
Moreover, if you're leading a team, try to have regular lunches together — even if they're virtual. Studies have found that groups who have lunches together have higher morale and productivity.
16. Shop Locally
What happens when you shop locally? Well, here are 10 positive outcomes courtesy of Independent We Stand:
"For every $100 you spend at locally owned businesses, $68 will stay in the community." That's only $43 at a national chain.
You're embracing what makes your community unique.
You're creating "jobs for teachers, firemen, police officers, and many other essential professions."
"Buying from a locally owned business conserves energy and resources in the form of less fuel for transportation and less packaging."
It nurtures the community since it's been found that "local businesses donate to community causes at more than twice the rate of chains."
You're reinvesting your tax-dollars back into the community.
There are more products and services geared for your specific area.
You can actually get friendly, expert advice.
You're supporting local entrepreneurship.
It helps make your community become a destination.
Where' your calendar come into play? Well, you could mark it for dates like Small Business Saturday or when there will be sales events throughout the year. Or, you could build this into your schedule. If your farmer's market is only open on the weekend, then do all of your local shopping on Saturday or Sunday.
17. Run Errands At Once
Piggybacking off that last point, reduce your carbon footprint by doing all of your errands in one shot. Let's say that you have Tuesday afternoon wide open. Since you have the availability, block that timeframe out so that you can buy groceries, pick-up your dry cleaning, or fill your car up with gas — as opposed to running back-and-forth throughout the week.
As an additional perk, you'll also save valuable time. And, this could be a chance to spend quality time with a family member or friend — which can help you achieve work-life integration.
18. Walk or Bike
Getting outside and getting the blood pumping is a win-win for your overall health and wellbeing. But, if you have spare time and the weather is cooperating, leave your car at home when running errands. While not always possible if you have a car full of groceries, if you need to pick-up items at a farm stand, this is beneficial for you, the local economy, and the environment.
19. Extend the Life of Your Lithium Battery
"One of the biggest environmental problems caused by our endless hunger for the latest and smartest devices is a growing mineral crisis, particularly those needed to make our batteries," Christina Valimaki, an analyst at Elsevier, told Wired. Consequently, mining operations are impacting local communities, such as those who grow quinoa and herd llamas in Chile.
What's more, this process can "scar the landscape" and cause toxic chemicals to bleed into water supplies. As if that weren't bad enough, some mining operations rely on child labor.
Since it's futile to give-up our lithium battery addiction, we can at least extend the life of our current batteries so that we aren't constantly replacing them. The easiest way? Not letting your battery completely drain.
"Try to keep batteries charged at an average 50% or above most of the time — at the very least somewhere between 40% and 80% — to preserve an optimal life span," suggests Jackie Dove and Paula Beaton for Digital Trends. "Even though your charger can control electronic input to prevent damage, you should unplug the phone when power hits 100% and, if possible, avoid overnight charging."
You can achieve this by putting your phone on airplane mode when you're working, eating, or sleeping. Other recommendations are keeping your apps up-to-date, removing apps/widgets you don't use, dimming your screen, using dark wallpaper, and disabling location services.
20. Frequently Check-In With Others
During your morning or evening routine, check-in with a family member, friend, or colleague. It doesn't have to be much. It could be a simple text message or a quick phone call letting them know that they're on your mind.
Just checking in on others strengthens relationships, improves your health, and can help you become more comfortable opening up. Most importantly, this can help them overcome any issues that they're struggling with. Or, at the very least, it can provide a healthy distraction.
The good people over at I Don't Mind have ten questions you should ask during your check-in. And, after you've opened up the lines of communication, schedule a video call and put it in your calendar for a more in-depth convo.
21. Take a Vacation
Vacations are a proven way to improve your life satisfaction, productivity, and both your mental and physical health. It can spark creativity, give you new perspectives, and allows you to bond with others.
While that's great for you and your relationships, traveling could also support local economies — especially those that have suffered from events like natural disasters. You could also volunteer while abroad. And, there are even options from companies like Responsible Travel that support communities and preserve nature.
If you can't get away because of COVID or your schedule won't allow it, plan a staycation. It may not be the same. But, this still gives you a chance to unwind, spend time with those closest to you, and back to your local community.
22. Add Holidays and Observances
Finally, open up your calendar and add lesser-known holidays and observations. Why? Because this allows you to observe and spread awareness on worthwhile causes thoughtfully. Some suggestions are: